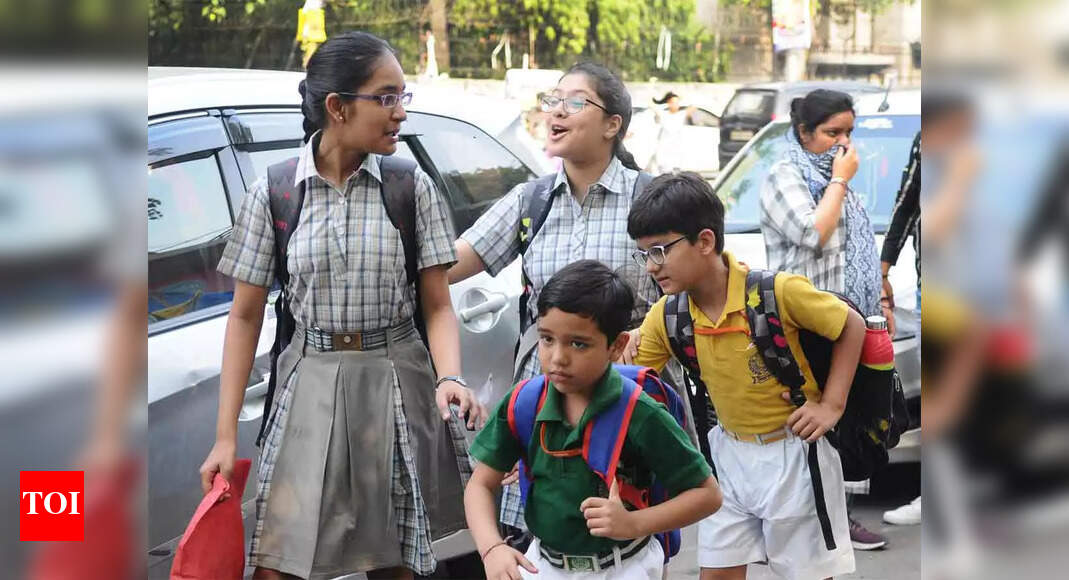 Heatwave: Summer vacations for West Bengal schools from May 2 to June 15 – Rashtra News : Rashtra News
#Heatwave #Summer #vacations #West #Bengal #schools #June #Times #India

The West Bengal government on Wednesday planned to close the state schools early because of the prevailing intense heatwave conditions.
According to the sources the govt will close the schools from May 2, 2022 to June 15, 2022. There will be no change for Darjeeling and Kalimpong schools.
The advisory issued by the govt has asked schools to shift the primary school hours from day to morning, and if not possible, to make adequate arrangements so that children do not fall ill in the scorching heat. With the city's maximum temperature hovering around 40 degrees Celsius for three days in a row, the government has also asked schools to coordinate with local health officials.
The board exam season kicked off on Monday amid warnings of a heat wave. For semester-II ICSE candidates, the searing heat seemed more of a matter of concern that their English paper. The Class XII ISC exams will start with English papers on Tuesday but CBSE boards have minor papers. Most schools took measures to ensure candidates did not feel uncomfortable or ill. The West Bengal Council of Higher Secondary Education also asked its schools to ensure uninterrupted power and water supply, adequate availability of ORS and medical attention to take care of Class XII boards candidates in case they fall sick in the heat wave-like condition during their last papers on April 26 and 27.
Seema Sapru, principal at The Heritage School, said, "In the pre-Covid years, exams used to take place in February and March. So, the kids never had to face this kind of heat. Today we allowed the board examinees to avail of our bus services and ensured they had their meals at school. Of the 182 students taking their exam today, 40 came by bus. We have also decided that from the May 16 to 20, our children will have online classes so that they do not have to be out in the summer heat."
Principal at DPS Howrah Sunita Arora said, "I have ordered glucose and ORS for our infirmary. A supply will be kept in each exam room. We also encourage students to continuously drink water. Moreover, we are holding exams in the better-ventilated rooms. Eighteen students will be allotted to each room in three rows to ensure more space."
Vijaylaxmi Kumar, principal at Asian International School, said, "We will conduct an online orientation programme on Tuesday for our Class X students, advising them on how to take guard against the heat-wave-like conditions. We will hold a similar session for Class XII before their boards. The school is also stocking up on glucose and medical help will continue to be available."
Supriyo Dhar, secretary at La Martiniere, said, "Boards students will write their papers in AC rooms. If students face any issues with exhaustion or sickness during transit, they will receive immediate medical attention."
!function(f,b,e,v,n,t,s)
{if(f.fbq)return;n=f.fbq=function(){n.callMethod?
n.callMethod.apply(n,arguments):n.queue.push(arguments)};
if(!f._fbq)f._fbq=n;n.push=n;n.loaded=!0;n.version='2.0′;
n.queue=[];t=b.createElement(e);t.async=!0;
t.src=v;s=b.getElementsByTagName(e)[0];
s.parentNode.insertBefore(t,s)}(window, document,'script',
'https://connect.facebook.net.en_US.fbevents.js');
fbq('init', '2009952072561098');
fbq('track', 'PageView');
Latest Sports News | Latest Business News | Latest World News | Latest Bhutan News | Latest Nepal News | Latest Education News
( News Source :Except for the headline, this story has not been edited by Rashtra News staff and is published from a timesofindia.indiatimes.com feed.)
Related searches :