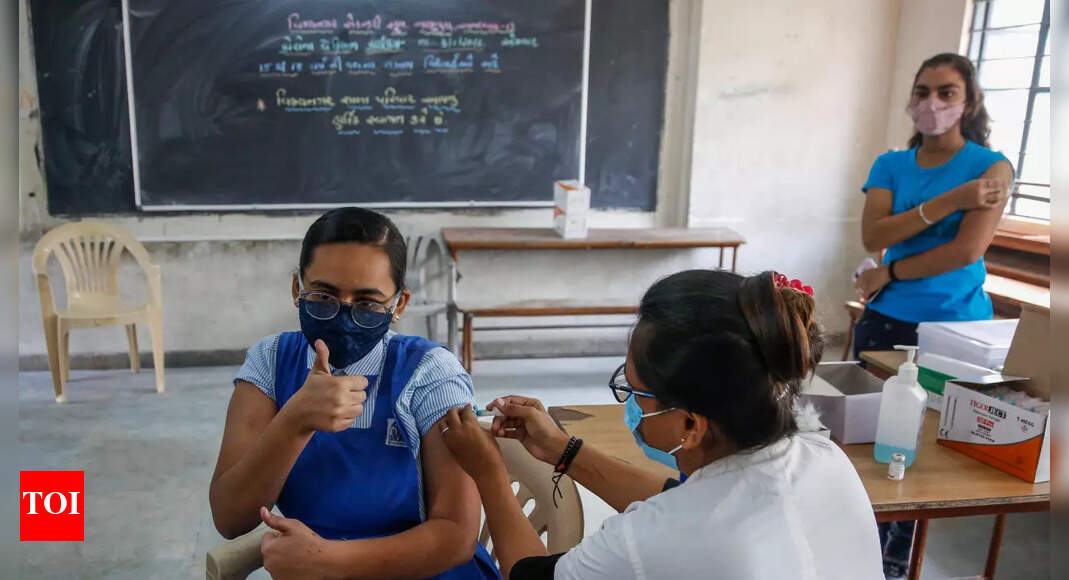 Over 41 lakh teens get Covid shots on Day 1, 53.6 lakh sign up | India News – Rashtra News : Rashtra News
#lakh #teens #Covid #shots #Day #lakh #sign #India #News #Times #India

NEW DELHI: The launch of Covid vaccination for adolescents drew an enthusiastic response, with nearly 41.3 lakh youngsters between 15 and 18 years of age receiving jabs till 11pm on Monday, boosting the daily vaccination tally to 98.6 lakh, just under a crore.
Vaccination of the 15-18 cohort accounted for around 42% of the total doses administered till 10pm. The highest number of youngsters — over 7.7 lakh — turned up for vaccination in Madhya Pradesh, followed by Gujarat with a footfall of over 5.6 lakh, Andhra Pradesh (4.9 lakh), Karnataka (4.1 lakh) and Rajasthan (3.6 lakh).
Among bigger states, Uttar Pradesh administered only 1.7 lakh doses. The Centre has asked UP to ramp up vaccination coverage among adults too in view of the approaching polls. Among other major states, Bihar vaccinated 1.7 lakh adolescents, Maharashtra 1.8 lakh, Tamil Nadu 1.9 lakh and West Bengal around 1 lakh on the first day of the rollout of the programme. In Delhi, 21,010 teens received the shots till 10pm.
Registrations in the 15-18 category, which opened from January 1, jumped to around 53.6 lakh from nearly 8 lakh till Sunday. As walk-ins were allowed, most children were registered on-site.
Health ministry projections put the number of teens in the 15-18 age bracket at 7.4 crore. With the Centre asking states to organise separate sessions for vaccinating these children to avoid any mixing of vaccines meant for adults, a total of more than 1.12 lakh sites administered the shots on Monday. These included sites that catered to adults as well. India is currently using only domestically-made Covaxin for inoculating children.
Clarifying some reports alleging that expired vaccines are being administered in India under its national Covid-19 vaccination programme, the government said: "The shelf life of vaccines is extended by the national regulator based on comprehensive analysis and examination of stability study data furnished by the vaccine manufacturers."
The drug regulator had on October 25 last year approved the extension of shelf life of Covaxin from 9 to 12 months. Similarly, the shelf life of Covishield was increased from 6 to 9 months on February 22, 2021.
The decision to prioritise vaccination in this age category of children is driven by the fact that almost 75% of deaths in children due to Covid-19 so far has happened in this age group. The government's experts also took into account the advent of the more transmissible Omicron, which raises the risk of older children, fairly mobile now, bringing the disease home to the more vulnerable elderly family members. It was also felt that vaccinations will reassure parents worried about sending children to regular school.
Vaccination of adolescents is expected to help normalisation of education and also reduce the risk of transmission through them. While younger children are likely to have better immunity against Covid-19 than adults, it is expected that the government will gradually expand vaccination to cover all age groups.
Overall, India has administered over 146 crore doses so far. While more than 90% of the adult population has received at least one dose, around 65% have got fully vaccinated.
Latest Sports News | Latest Business News | Latest World News
( News Source :Except for the headline, this story has not been edited by Rashtra News staff and is published from a timesofindia.indiatimes.com feed.)